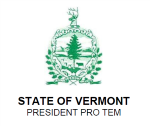 For Immediate Release
March 30, 2021
Senate takes next steps on proposed constitutional amendments
Montpelier, VT – Today the Senate Rules committee met to take the next steps on two proposed amendments to the Vermont Constitution. The Constitution requires that, following the initial adoption of proposed changes, in the next legislative biennium a new legislature must concur with the change in order for it to move forward.
In the last biennium, the legislature passed two proposed constitutional amendments:
Proposal 2 seeks to clarify that slavery and indentured servitude in any form are prohibited.

Proposal 5 seeks to ensure the personal reproductive liberty of every Vermonter.
Following Senate Rule 83, the Senate Rules Committee voted today to place the amendments on the Senate Calendar. The rule requires six legislative days of notice before any Senate action on the proposals on the seventh day. The Senate will vote whether or not to concur with these amendments Friday, April 9th.
Following the committee meeting, Senate President Pro Tempore Becca Balint said, "We recognize that there is a great deal of weight and history behind any changes to the Vermont Constitution. Both of these proposals have strong, bipartisan support in the Senate. They help better ensure essential liberties for Vermonters and enshrine our shared values of freedom and justice. We look forward to taking this next step to strengthen our State Constitution."
Following the Senate vote, the House must also concur, and then the amendments are put to Vermonters for a direct vote.