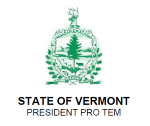 For Immediate Release
March 19, 2021
Vermont Senate passes $100 Million in COVID Recovery funds
Montpelier, VT – From the start of this legislative session, the Senate has prioritized response to the COVID-19 pandemic. We've worked hard to pass legislation that supports our kids, assists workers and families, keeps businesses and communities viable, and restores faith in our democratic institutions.
Today, the Senate passed H.315, a bill that will provide over $100 million in funding to assist Vermonters and to enable Vermont to build back better from this pandemic. Over $80 million of this funding is from the federal COVID relief bills. In addition to the funding appropriated in this bill as passed by the House, the Senate has made further investments in the following areas:
Economic Development and Security
$5 million in mortgage assistance to Vermont homeowners to prevent foreclosure

$5.5 million for summer meals for school children

$0.5 million for continued microbusiness grants through local community action agencies
Workforce Development
$1.4 million to address an acute nursing shortage by supporting an LPN partnership program between VTC and Vermont nursing homes

$3 million to the Vermont State Colleges and $1 million UVM to provide courses or certification programs to help over 2000 Vermonters improve workforce skills
Broadband
$1.8 million to assist the newly created Communication Union Districts (CUDs) with technical support, preconstruction and engineering costs in order to expand broadband access

$5 million for broadband and connectivity programs including extension of the broadband subsidy program
Education
$2.8 million to continue and expand the McClure Foundation's initiative to provide college courses to one thousand 2020 and 2021 high school graduates

$3 million to fund a literacy initiative to improve the reading proficiency of Vermont students, recognizing that only 50% of third graders read at grade level

$4 million to fund summer and afterschool programs
The bill also includes $3.75 million to assist town and schools with the administration of over $500 million in federal American Rescue Plan funds. This technical assistance will help ensure our schools and communities can make the most of this incredible opportunity.
Other legislative highlights in the Senate this session include:
Strengthening democracy:
S.15 makes universally mailed ballots a permanent feature of Vermont's general elections. The bill also allows voters to fix or "cure" a ballot if it has been deemed defective.
Promoting Equity in Schools
S.16 seeks to reduce the use of suspensions and expulsions as behavioral tools in Vermont schools, recognizing that they have been disproportionately applied to students with disabilities and students of color.

S.13 creates an implementation task force to update Vermont's education funding formula so that it better ensures equitable access to educational opportunities for all public-school students.
Justice system reform:
S.7 allows those with prior justice system involvement to contribute positively to their communities without the barrier of having a criminal record. It expands eligibility for both expungement and the sealing of a criminal record to most criminal offenses and several civil offenses.

S.107 protects youth who come in contact with the criminal legal system, by ensuring that any identifying information contained in a juvenile's initial arrest or charge record is confidential.
Keeping Vermonters Healthy
S.117 extends regulatory flexibility for health care providers during and immediately after the COVID-19 pandemic, requires health insurance agencies to cover health care services delivered by audio-only telephone calls, and establish requirements for health care providers providing services in that manner, recognizing how important these services are for our rural areas and our homebound elders

S.20 restricts the use of PFAS and other chemicals dangerous to public health in consumer products, including firefighting foam and protective equipment; food packaging; rugs, carpets, and aftermarket stain and water-resistant treatment; and ski wax.
Addressing period poverty:
S. 53 and S.115 help ensure that menstrual products are more affordable and accessible to all who need them by exempting such products from the sales tax and requiring all Vermont schools to make them available at no cost to students.